Parish Announcements May 2017
The Next Book Club Meeting is Monday, May 22nd at 7pm in the McDevitt Room with Resisting Happiness. Please read Chapters 13-22!
---
---
Gallagher Tuition Assistance: 
Trivia Night!
In 2015, St. James School established the William "Pete" and Josephine Gallagher Fund for tuition assistance. To grow this fund we invite all to: Gallagher Tuition Assistance Fund Trivia Night. Join us Friday, June 9th, 2017 Doors open at 6pm and trivia will begin at 7pm in Owens Hall. Craft Beer, wine and snacks will be available along with raffles, games of chance and a Dessert Dash! Register online by June 2nd, $125 per table of 10 or $15 pp. Donate to the Gallagher Tuition Assistance or see St. James School Website
---
St. James Parish Picnic–Save the Date!
Sunday July 23, 2017 1-4pm @ Sacred Heart Grounds on Brooks Road. Come join the fun with family and friends! More information to come!
---
2017 Annual Hope Appeal:
The goal we have been given for this year is $81,025.42. As you know the Hope Appeal assists us directly in four ministries of our parish: St. James School, the Spanish Apostolate, the Vietnamese Community, and interpretation for the deaf community at our 9:30am Mass. Your donation to the Hope Appeal is accounted toward our assessment, and then is distributed to the various diocesan ministries such as the ones mentioned above. Please give as generously as you are able to this year's campaign. Thank you for your kindness and participation.
---
Vacation Bible School 2017!
We need your help…a planning meeting for this year's Vacation Bible School "Passport to Peru" will be held on Wednesday May 31st at 6pm in the Sr. Rose Margaret Room in the Parish Office.
Passport to Peru Vacation Bible School
July 31 – August 4, 2017
9am – 12noon
St. James School Gymnasium
Children entering grades K-5 are invited to participate.
Adults and children entering grade 6 and above are welcome to volunteer. If you have questions or would like more information, please call the St. James Parish Office at 607-729-6147 ext. 319 or 320.
---
SAVE THE DATE HIGH SCHOOL SENIORS!
St. James Baccalaureate Mass is Sunday June 18th, 2017 at the 11:30am Mass.
---
Feast of the Ascension of the Lord–Holy Day of Obligation
Thursday, May 25th 2017
6:30am, 9am, 5:30pm
(Vigil-Wednesday May 24th @ 5:30pm) 
---
Volunteers Needed:
Looking for retired men who can substitute as needed to assist at the post-funeral luncheons in Owens Hall. If you are able to volunteer from time to time, please contact Hope in the Parish Office 729-6147 and leave your name and contact information. Thank you!
---
---
Fr. Frederick Kooro Mwangi
Bishop Cunningham announced that Fr. Paul Machira has been appointed the Administrator of St. John the Evangelist in Bainbridge, with its mission of St. Agnes in Afton. We wish him well as he assumes this new responsibility. He will continue to reside at St. Thomas Aquinas Rectory as he completes his degree.
Bishop Cunningham appointed Fr. Frederick Kooro Mwangi as Parochial Vicar of St. Patrick's and St. Thomas Aquinas, and will assist in our PCA parishes (St. Cyril's, Holy Trinity and St. James).
Both appointments are effective Monday, Nov. 21.
---
Pilgrimage to Italy with Dc. Blaine!
11 Days: November 6-16, 2017 hosted by Deacon Ed & Rose Blaine. Cost is $2929 per person from NY to visit Venice, Padua, Florence, Assisi, Rome, and Vatican City (including a papal audience!) For more information contact Dc. & Mrs. Blaine, 607-754-0289, or dcnedb@aol.com.
---
YouTube…and the Diocese of Syracuse!
Did you know that Fr. Chis Seibt and the Diocese of Syracuse offer a weekly news program called Around the Diocese. Check in every Wednesday with Fr. Seibt for the latest updates in the diocese, as well as media tips, Catholic Sun news, reflections, virtual retreats, and more! Be sure to subscribe to receive the weekly news and stay up to date with what's going on around the diocese!
---
Children's Liturgy of the Word
Children's Liturgy of the Word is held during the 9:30am Sunday mass for children aged 3-6. It is every weekend that there is Religious Education.  We have the same readings as in the regular mass, with discussion and puppet plays that are age appropriate. Visiting children are welcome as well as parents and older siblings who wish to accompany any nervous children.
If you are interested in helping once a month or so during Children's Liturgy of the Word, please contact Mary at 771-0313. We are in need of  adult supervision, and middle school students who can help as puppeteers. VIRTUS training will be needed for adults.
---
St. James Parish Library Catalog Now Online!
Thanks to Sr. Anne Horrigan CSJ and Marie Gomulka, a catalog of the books in the St. James Parish Library is now online! Use the link at the top of the home page, or check it out here!
---
Catholic Schools of Broome County Now accepting applications for enrollment!
For more information or to schedule a tour, contact the office of admissions at 607-748-7423 x3 or your school of choice:
All Saints School-Endicott-607-748-7423
St. James School–Johnson City-607-797-5444
St. John School-Binghamton-607-723-0703
Seton Catholic Central-Binghamton-607-723-5307
Tours are being scheduled now for Early Childhood Education through 12th Grade. Contact the office of admissions at 607-748-7423 ext 3 for more information. Consider the possibilities waiting for your children! 100% Graduation rate. Class of 2014: 100% moving onto higher education. Tuition assistance available. See Catholic Schools of Broome County or Seton Catholic Central.
---
Hospitals
Whenever a family member is in any of the area hospitals for more than three days and has not been visited by a staff member of St. James, please be sure to call the office, 729-6147, and alert the staff that the family member is a patient, so that someone may visit.
---
Getting Married??
If you plan on getting married, please call Carolyn in the Parish Office. Monday-Thursday 9am-3:30pm as soon as possible. Diocesan regulation requires 6 months notification as well as Pre-Cana instruction. With paper-work, planning and busy schedules to anticipate, twelve months ahead is realistic. With a high number of weddings in concentrated times of the year, it is very important that we are able to have available dates for parishioners.
As of December 30, 2016 there will be a new Marriage Rite for the Universal Church. Some of the changes are significant and so couples planning to marry in 2017 need to meet with Fr. Donovan after January 1. Setting appointments now will be very beneficial. Thank you!
---
St. James Food Pantry- UPDATE!
The pantry will typically accept most items, but in particular the usual items we need are:
Any kind of juice, peanut butter, JELLY, any kind of canned fruit, canned vegetables (especially corn) pasta, spaghetti sauce, rice, cereals, oatmeal, crackers/cookies, canned soup, canned or boxed potatoes, and canned meals like Chef Boyardee (ravioli, beefaroni, etc.) Personal items and Toilet Tissue are also accepted as well. Brown Paper Bags are also needed.
Many families in our neighborhood cannot afford to feed their children three meals a day. This includes working families, and grandparents who are caring for children who are disabled. Therefore, we are attempting to supplement the pantry to accommodate this increased need. There are bags located at the entrances of the church for those who are able to assist at this time. Every donation helps, thank you for your tremendous generosity!
This new location will allow the pantry to expand and assist a greater clientele with more inventory. The Pantry will now be open Monday thru Saturday 12pm-2pm. Please contact Hope Matthews in the Parish Office if you would like to volunteer. The pantry will now be able to accept donations of personal care items in addition to food items. A special thank you to Jerry and Nancy O'Brien who initiated the expansion of the pantry. 
A reminder when bringing food for the pantry: leave donations in the side entrance of the church, please do not leave food outside of the pantry or rectory.
---
Saturday May 20th, 10am @ St. James in Syracuse
Transitional Diaconate Ordination of Matthew Rawson! Please pray for Matt and for all of our Seminarians as they continue to discern God's call in their lives. God willing, Matt will be ordained to the priesthood for the diocese of Syracuse in June 2018!
Saturday June 3rd, 10am @ Holy Cross Church in Dewitt
Priesthood Ordination of Rev. Mr. Matthew Lyons who is a native of the Southern Tier! Matt was ordained a Transitional Deacon last year at St. Joseph's in Endicott. God Bless you Matt as you prepare to serve our diocese! Thank you for answering the call!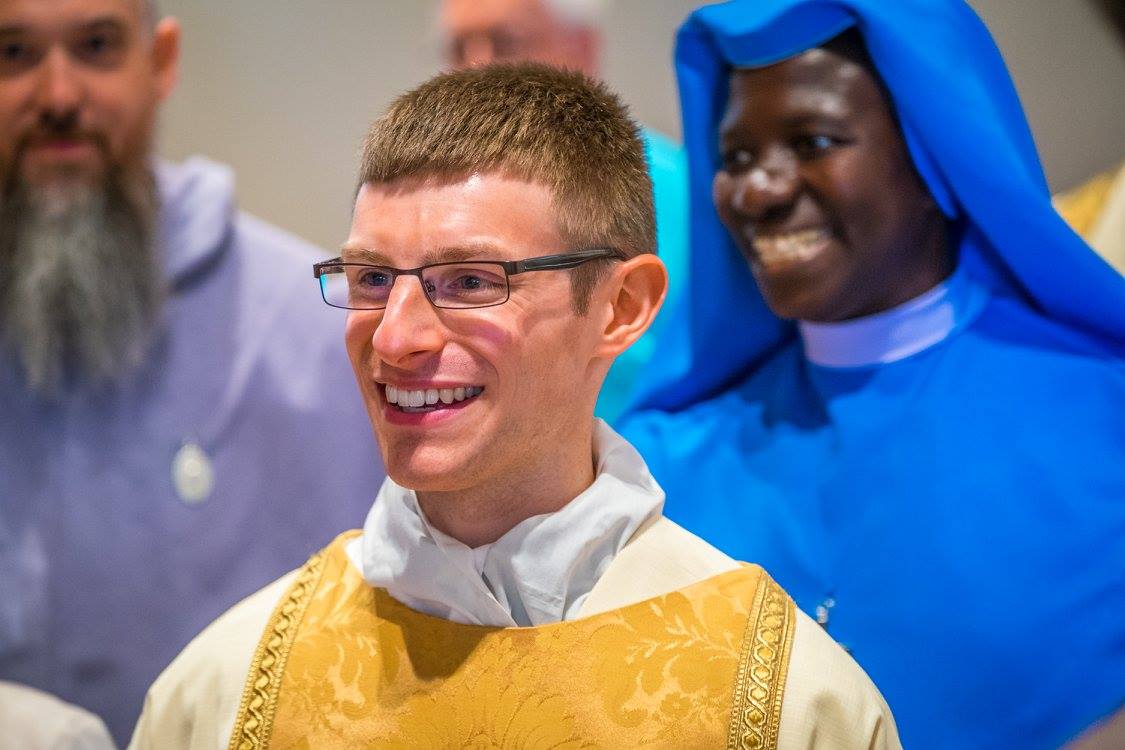 Vocation Awareness
Prayer for Vocations
Loving God, you sent your Spirit on the apostles to continue the mission of your Son, Jesus. We pray that you will now send your Spirit on our bishops, priests, deacons, sisters and brothers, filling them with zeal to evangelize your people.
We pray for all that are presently discerning your call, those in vocational formations and those preparing them.
Mary our Mother and patroness intercede for us that our pastoral need may be fulfilled through Him who is Lord for ever and ever.
Amen.
Is God calling you to the priesthood or religious life? Fr. Chris Seibt at Ss. John and Andrew in Binghamton hosts a monthly discernment group:
The Discernment Group meets the first Saturday of the month at the Paris of Ss. John & Andrew in Binghamton. Young men in high school and college us invited to join for dinner, discussion and prayer. The call to the priesthood is a powerful ministry…come learn about it, pray about it, and ask whatever questions are on your mind! RSVP to Fr. Seibt: cseibt@syrdio.org if you are ever interested in attending!
---
As always, our weekly bulletin is online for more announcements, schedule concerns and more!
Past bulletins can be reached here.